---
https://www.bitchute.com/video/5hTfoenvFQvJ/


(Article by James Roguski republished from JamesRoguski.Substack.com)
The World Health Organization's Intergovernmental Negotiating Body will be meeting Monday, Tuesday and Wednesday, December 5-7, 2022 to discuss the conceptual zero draft of the proposed "Pandemic Treaty."
The WHO will be live streaming the meetings for three days, starting very, very early in the morning of Monday, December 5, 2022. The meetings will be recorded.
Midnight Pacific
1am Mountain
2am Central
3am Eastern
8am GMT
9am Geneva
https://apps.who.int/gb/inb/e/e_inb-3.html
https://jamesroguski.substack.com/p/conceptual-zero-draft?utm_source=substack
https://inb.who.int/docs/librariesprovider13/default-document-library/newsletter-of-the-inb-bureau-december-2022.pdf
NOTE: The World Health Organization clearly states that they plan to submit their proposed "Pandemic Treaty" to the 77th World Health Assembly that is scheduled for May 2024. They have also clearly stated that they want the proposed "Pandemic Treaty" to be legally binding.
Pharmaceutical Hospital Emergency Industrial Complex (Articles 5, 6, 7, 8, 9, 10, 11 and 12)
Ministry of Truth (Article 16)
One Health (Article 17)
Financial Intermediary Funds (Articles 18 and 22)
Build Bigger Bureaucracy (Article 19)
Oversight and Compliance (Article 20)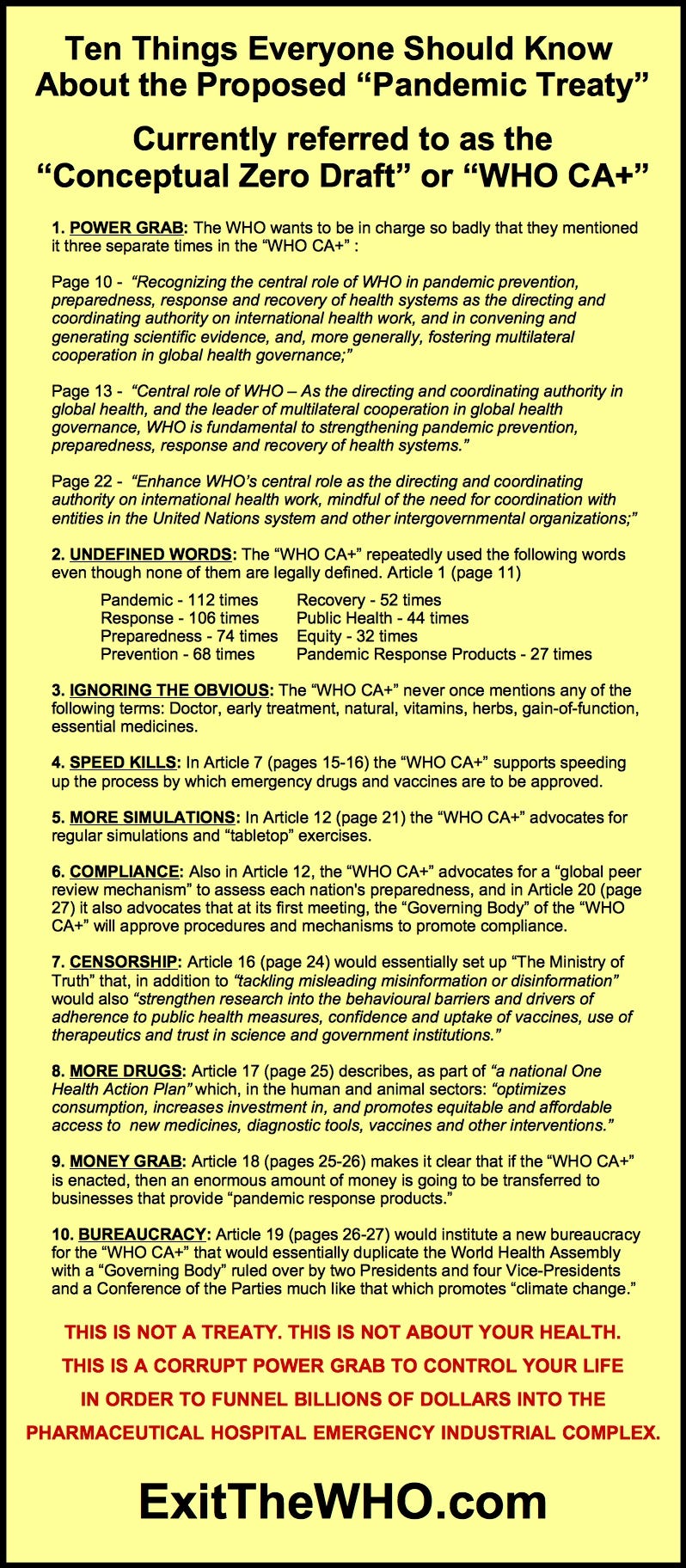 https://jamesroguski.substack.com/p/pandemic-treaty-update
https://jamesroguski.substack.com/p/pheic?utm_source=substack
A/INB/3/1
Provisional agenda
A/INB/3/2
Draft programme of work
A/INB/3/3
Conceptual zero draft for the consideration of the Intergovernmental Negotiating Body at its third meeting
A/INB/3/4
Proposal by the Bureau on an updated timeline and deliverables, development of the zero draft of the WHO CA+, and establishment of drafting group modalities
A/INB/3/INF./1
Summaries of regional committee discussions on the working draft
Report by the Secretariat
A/INB/3/INF./2
Informal, focused consultations
Report by the Bureau of the Intergovernmental Negotiating Body
A/INB/3/INF./3
Outcomes of the second round of public hearings
Report by the Secretariat
Three Days That Will Live In Infamy
Read more at: JamesRoguski.Substack.com
Submit a correction >>